Pakistani militants 'hijacking' Kashmir cause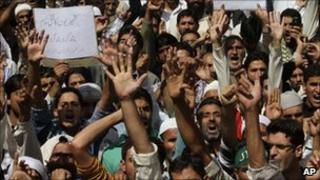 The Kashmiri separatist Jammu and Kashmir Liberation Front (JKLF) has criticised Pakistani militants for "hijacking" its cause.
The JKLF - which wants Kashmir to be independent of Pakistan and India - said that they were "subverting the indigenous movement".
Its strongest criticism was for the Jamaat-ud Dawa (JD) charity.
Experts say that the JKLF's latest criticism of Pakistani-based militant groups is more strident than usual.
The row comes at a sensitive time in Indian-administered Kashmir, where more than 100 people have died in street protests since June.
Nationalist struggle
The JD charity is believed to be the parent organisation of the Lashkar-e-Taiba militant group.
Lashkar has been at the forefront of the armed insurgency in Indian-administered Kashmir in recent years and wants the territory to become part of Pakistan.
The JKLF statement was made as the JD launches a three-day mass contact drive across Pakistan-administered Kashmir to "raise awareness about the latest agitation in Indian-administered Kashmir".
The JKLF started the insurgency in Indian-administered Kashmir in the late 1980s.
Its leaders have since admitted they were then supported by the Pakistani government which trained their militant wing.
But the JKLF says that the Pakistanis changed their mind and introduced pro-Pakistan groups, such as Jamaat-e-Islami's affiliate, Hizbul Mujahideen, Lashkar-e-Taiba, Harkatul Mujahideen and other groups.
It says these groups not only fought Indians but also persecuted JKLF activists.
A JD spokesman, Yahya Mujahid, told the BBC on Monday that about 3,500 people have joined a JD caravan that will travel from Mirpur to Muzaffarabad in Pakistan-administered Kashmir and then hold a rally in Islamabad on Wednesday.
Witnesses and officials say local Kashmiri participants in the march are few - most are non-locals from different areas of Pakistan.
The JKLF has often accused pro-Pakistan groups of turning a legitimate nationalist struggle of the Kashmiri people into an Islamic terrorist movement, thereby undermining the movement's credibility.
A JKLF statement says that the JD campaign "will sabotage the Kashmiris' spontaneous movement once again, and provide propaganda material to the Indian government to defame and suppress the Kashmiri people's movement for national liberation".