India agrees to release Kashmir stone-throwers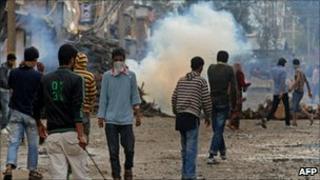 Authorities in Indian-administered Kashmir say men detained for throwing stones at security forces during the current protests will be released immediately.
More than 100 civilians have been killed since June in protests against Indian rule.
Most of the clashes have been between young people throwing stones and Indian security forces.
India has announced a range of measures to defuse tension in the region.
A senior official in Indian-administered Kashmir said that 50 of the nearly 100 men held for stone-throwing would be handed over to their parents after "assurance" was given about their future conduct.
Authorities have also decided to remove 16 bunkers used by security forces in the summer capital, Srinagar, which has seen the most violence during recent periods of unrest.
They said they were also reviewing the possibility of removing the controversial Armed Forces Special Powers Act, which gives sweeping powers to the army, from some disturbed areas.
The moves are part of an eight-point initiative announced by India's federal government to ease the crisis in the region.
Tens of thousands of people have been killed in Kashmir since an armed revolt erupted in 1989.