Sri Lanka president backs ex-army chief's imprisonment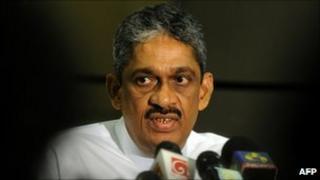 Sri Lanka's president has endorsed the 30-month jail term with hard labour of former army chief Sarath Fonseka, the government has announced.
Mr Fonseka was found guilty of breaching arms procurement guidelines on 17 September by a military court.
But the country's main opposition, United National Party (UNP), has described the court as "illegal."
The MP was earlier stripped of his rank and pension after being convicted of engaging in politics while in uniform.
He denied all the charges.
Mr Fonseka fell out with the president when he stood unsuccessfully against him in polls.
'Illegal'
"President Mahinda Rajapakse has approved the prison sentence for a period of two-and-a-half years after returning Wednesday from New York after attending the UN General Assembly," a presidential official told the BBC.
As the case had been handled by a military court, the sentence had to be approved by President Rajapaksa, as commander-in-chief of the armed forces.
The UNP General Secretary, Tissa Attanayake, MP, told BBC Sinhala that the party rejected the verdict because the military court was "illegally appointed."
He added that it is also unfair to treat the "war hero who led the troops to defeat the Tamil Tigers" in such a way.
Mr Fonseka was hailed by the majority Sinhalese community in May last year after the military defeat of the Tamil Tigers, bringing an end to decades of civil war.
With the jail term, he is expected to lose his parliamentary seat.
Mr Fonseka was arrested two weeks after his defeat in January's presidential elections and has remained in military custody since.
He has been allowed to leave jail under military escort to attend parliament since April, when he was elected an opposition MP.