Al-Qaeda sets sights on Taliban recruits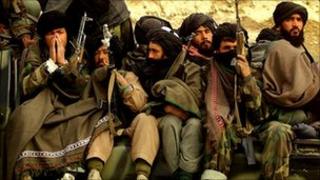 Al-Qaeda is stepping up its efforts to recruit Afghans and infiltrate Taliban insurgents in a bid to sabotage the Afghan government's efforts towards a negotiated peace, the BBC has learned.
The move comes as President Hamid Karzai established a 70-member High Peace Council tasked with pursuing talks with the Afghan Taliban.
Al-Qaeda has provided funding and expertise to insurgents over the past nine years.
Now it is becoming increasingly active in spreading its ideology and looking to boost its membership across Afghanistan.
Al-Qaeda's foreign fighters - particularly Arabs and Uzbeks - are still operating inside Afghanistan despite the US-led invasion of 2001 which forced them to establish bases over the border in Pakistan.
In an effort to create more havens, al-Qaeda has been in search of new psychological havens in both countries.
It has targeted young Afghans in small madrassas (religious schools) and mosques where small groups of religious students live and study.
Taliban 'embeds'
Al-Qaeda tries to attract members by promoting religious brotherhood and Afghan traditions of hospitality and sanctuary, while at the same time denouncing the policies of Western countries and fostering a sense of victimisation.
The group uses a sophisticated mechanism for extending its reach by embedding members within Taliban fighter units.
It also distributes video and audio propaganda which contains battlefield footage, speeches and emotional songs.
Al-Qaeda and its affiliates are trying to scupper government peace efforts and isolate moderates who might favour a negotiated settlement.
By infiltrating the Taliban they aim to influence their decision-making process.
"Al-Qaeda fighters are bolstering their forces in different parts of Afghanistan," says a local journalist in Helmand who declined to be named.
"Each insurgent group has at least one or two foreign fighters, mainly Arabs.
"They help the Afghan Taliban in the planning of attacks and sometimes impose their decisions when it comes to targets or operations."
Distrust
Before he was killed in a bombing at a mosque on 8 October, the governor of northern Kunduz province, Mohammad Omar, had warned of the growing danger posed by al-Qaeda.
He said that al-Qaeda militants did not trust Taliban commanders who had begun peace talks with the Afghan government.
"Al-Qaeda recently disarmed several key Afghan Taliban commanders in Kunduz province who had held peace talks with the government," he added.
"There are dozens of foreign al-Qaeda militants in Kunduz province who are supported and helped by some members of the Afghan Taliban."
As violence increases in Afghanistan, the power balance between insurgent groups is shifting.
The Taliban grants protection, while through its network al-Qaeda provides expertise, fundraising, explosives and technological support.
"Our information is that their ties are closer now," says Afghanistan's National Security Adviser, Dr Rangin Dadfar Spanta.
"A villager from Afghanistan cannot make modern bombs and suicide jackets. This is the work of an organised terrorist network which has the support of expert organisations."
Mawlawi Arsala Rahmani, a former high-ranking Taliban official and now a member of the Afghan Senate, said waging war against the Afghan government and its international partners was a "multi-dimensional phenomenon and very expensive".
"With the increasing needs, the Taliban's dependency on those who can help is also increasing," he said.
He added that the Taliban and al-Qaeda were much closer than when the Taliban were in power in Afghanistan from 1996 to 2001.
However, some Afghans complain that al-Qaeda and its new recruits appear to have little regard for the country's culture and traditions.
"We see violations of Pashtoonwali - our traditional code of life - on a daily basis by al-Qaeda and those of us who are being radicalised by al-Qaeda," says a tribal elder in eastern Afghanistan who asked to remain anonymous.
"They have been targeting civilians, including women and children. They also carried out attacks in mosques and jirgas [traditional gatherings], the most revered institutions under the code."
Opening a dialogue
The establishment of the High Peace Council was among the main recommendations made at a jirga attended by about 1,600 Afghan leaders and tribal elders in Kabul in June.
The formation of the council in September is considered one of the most significant steps President Karzai has taken in his oft-stated efforts to open a dialogue with the Taliban leadership.
The Taliban have repeatedly rejected peace efforts saying they will not enter into talks until foreign forces have left the country.
But there are signs that a number of Taliban commanders and foot soldiers are willing to talk peace.
The challenge is how to prepare the ground for reconciliation and reintegration of the Afghan Taliban before they become even more dependant on al-Qaeda, both financially and ideologically.
Divorcing the Taliban from al-Qaeda and its affiliates is becoming one of the major headaches facing the Afghan government and its international partners.