India Maoists release police hostages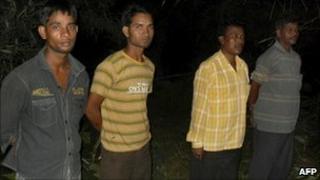 Maoist rebels in India have released four policemen they took hostage 11 days ago, officials say.
The men were released late Thursday night. The rebels handed them over in the forest to local journalists.
Maoists had abducted seven policemen in Bijapur, Chhattisgarh state, on 19 September. Three of them were found dead in forest two days later.
Indian forces are battling Maoists in several states. The rebels say they are fighting for the rights of the poor.
Last year, the Indian government launched a major offensive against the Maoists in several states. The insurgency is seen as the country's biggest internal security challenge.