Afghanistan 'disbands eight private security firms'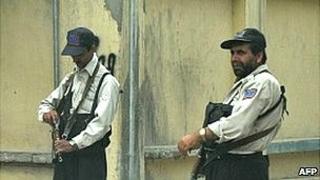 Afghanistan has announced a formal ban on eight private security companies.
President Hamid Karzai pledged to limit the scope of security companies when sworn in last year and in August signed a decree giving them four months to end their operations.
The first targets are firms with temporary permits and those operating illegally or who have committed past breaches of security.
Firms with guards in foreign embassy or business compounds are exempt.
'UN backing'
Mr Karzai's spokesman, Waheed Omer, said: "The process of dissolving eight private security companies and collecting their weapons has been carried out successfully."
Interior Ministry spokesman Zemarai Bashary said the UN and Nato's Isaf forces had given the plan their backing.
"The interior ministry is implementing this plan with seriousness and decisiveness," he said, adding that about 400 weapons had been impounded.
Private security firm employees are allowed to transfer to the Afghan security forces.
Mr Bashary said: "The plan is arranged in a such a manner that it does not create a security gap, yet at the same time [we can] dismantle the private security companies."
There are 52 such companies, both international and domestic, registered with the government.
They employ thousands of staff, who many Afghans believe often act with impunity.