Mumbai gunman lawyer appears in Indian Big Brother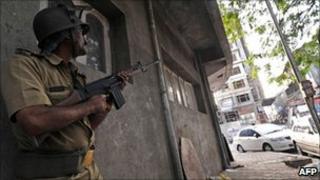 The lawyer who represented the sole surviving gunman of the 2008 Mumbai attacks is to appear in the Indian version of reality show Big Brother.
Abbas Kazmi was appointed by the state to represent Mohammed Ajmal Amir Qasab.
But he was removed from the case towards the end of the trial for "not co-operating and delaying" the trial.
Qasab was sentenced to death in May for the attacks - in which gunmen killed 165 people - after he was found guilty of mass murder.
Claims to notoriety
Now in its fourth season the Indian version of the reality show - known as Bigg Boss - will see a host of participants who have courted controversy.
They come from all walks of life and usually have different claims to notoriety.
The new series will be hosted by Bollywood superstar Salman Khan, who himself has criminal cases against him. His latest movie, Dabanngg, broke all box-office records.
Previous seasons of Bigg Boss have featured Jade Goody and Bollywood actress Shilpa Shetty.
Ms Goody - who died of cervical cancer in 2009 - became embroiled in a row about racism when the pair appeared in the British version of the show.
Fourteen participants are now locked in the Bigg Boss house, two hours away from Mumbai, for 85 days. One housemate will be eliminated every week.
At the time of entering the house, Mr Kazmi told Salman Khan: "The government appointed me to represent Ajmal Qasab. Before that I had handled the 1993 Mumbai serial blasts case as well."
Those attacks - blamed on the criminal underworld - killed more than 250 people, injured a further 1,000 and caused more than $10m (£6.3m) worth of damage.
'Challenges'
Mr Kazmi told Mr Khan that many years ago he had also acted in Hindi movies.
"I love to experiment and take up challenges. Living in the Bigg Boss house is quite a challenge, since one has to remain cut off from the outside world and adjust with strangers," he said.
He was the second participant to enter the house and was seen welcoming and interacting with others.
Other participants include Pakistani television show host Nawazish Ali and Pakistani actress Veena Malik.
Right wing Hindu groups have taken exception to their appearance, threatening "to stall" the show if they remain.
They complain that Indian performers are "banned" from Pakistani TV channels.
"Then why does the show allow Pakistanis on Indian television?" asked Shiv Sena spokesperson Sanjay Raut.
Seema Parihar, a self-confessed Indian bandit facing murder and kidnapping charges, appeared on the show on Sunday despite legal moves preventing her from doing so.