Analysis: Why Nato's tankers are so vulnerable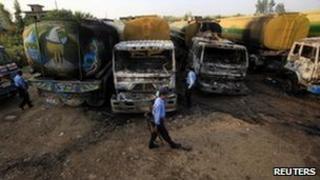 Taliban militants say they attacked a depot in Pakistan, destroying 27 tankers carrying fuel for Nato troops in Afghanistan.
With such attacks now a regular occurrence, Rifaat Hussein, professor of security studies at Islamabad's Quaid-e-Azam University, tells BBC World Service why Nato's convoys are so exposed.
The frequency and intensity of these attacks has increased and many people in Pakistan attribute this to the 26 drone strikes which took place in September alone.
People are saying that the drone attacks are generating anger which manifests itself in attacks on the fuel supply lines through Pakistan.
Pakistan gives the convoys right of passage but the security and safety of the tankers is primarily the responsibility of Nato and its contractors.
I do not think the government of Pakistan is directly implicated in these arrangements.
Routes through Pakistan have been very exposed for the last 10 years and their vulnerability is now becoming much more acute.
Militants are feeling emboldened and enraged as a result of developments in Afghanistan and the drone attacks on the Pakistani side.
We are also seeing Nato incursions into Pakistan for the first time, with the death of three Pakistani soldiers.
Troops overstretched
It is not just the militants.
A lot of organised crime is also involved. Vital supplies other than fuel also pass through Pakistani territory. Sometimes the goods get looted and the empty trucks are set on fire to eliminate evidence.
The Pakistani military has the capability to protect these routes but this would certainly stretch its resources because it has already deployed about 140,000 soldiers along the Afghan-Pakistan border and 80,000 for flood relief work.
If Nato were to make a request to the Pakistani army or the paramilitary forces to beef up the security of these routes, I am sure the Pakistani government would be able to do that.
But to the best of my knowledge, I do not think there is any explicit agreement between Nato forces and the Pakistani government that this is a job they expect the government to be doing.