'We're the real Games losers,' say India slum dwellers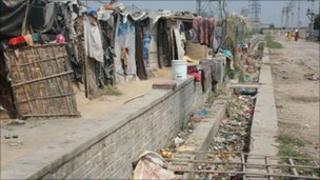 Muhammed Saleem and his family live in a small wooden shack in the suburb of Bawana, an hour by car north of the Indian capital Delhi.
In India, Bawana is known as a slum. It has high levels of unemployment and diseases such as malaria and typhoid are common.
Huge piles of rubbish sit uncollected around the town and raw sewage sits stagnant in the streets.
Mr Saleem was moved here in 2004 as part of a government relocation plan.
His former home was in the Yamuna Pushta district of Delhi which is now the site of the athletes' village for the Commonwealth Games.
Cramped room
He claims the government promised him a plot of land in Bawana but he is still living in a row of wooden huts on a temporary site on the edge of the town.
"Life was better before. There were hospitals and the roads were better there. There are no jobs here and crime has increased," Mr Saleem says.
"We're happy the Games are in India but we haven't benefited at all."
Mr Ali lives in one of Bawana's brick houses. He shares a small, cramped room with 15 members of his family.
He is one of the slum's young entrepreneurs, making wooden drums from mango trees which he sells in central Delhi.
Since he was relocated, his journey into the city takes more than two hours by bus.
Despite that, Mr Ali is enthusiastic about India hosting the Commonwealth Games.
"I am very pleased. I will welcome all people from other countries to Delhi."
'Flawed idea'
It is estimated that India has spent around $6bn on the Commonwealth Games, improving the infrastructure and sporting venues around Delhi.
The relocation of poor families from parts of Delhi was part of the government's beautification drive, ahead of the Games.
It says that thanks to the Games, 26 new flyovers and 18 railway bridges have been built at a cost of $1.4bn.
It also says that it will provide flats to those evicted, and spend $5,000 per family. But critics say little of that money has been provided.
In Bawana's clinic, Dr Zaki Ahmed believes the idea of beautifying the Indian capital is flawed.
He says life was much better before he was moved and in Bawana there are not enough medicines and medical facilities for a total population of more than 20,000 people.
"The whole beautification plan for Delhi is a farce. Once the Games are over, Delhi will be the same as it was before."
The local councillor for Bawana, Narayan Singh, says the relocation of families has nothing to do with the beautification of Delhi.
A member of the opposition Bharatiya Janata Party, Mr Singh claims it is about giving families a plot of land to build their homes.
But like Muhammed Saleem, dozens of families still live in temporary shacks on the edge of the town.
Most people in Bawana are proud that India is hosting such a big sporting event, but many are angry and feel they have been forgotten, blaming politicians for broken promises.