Kashmir chief minister 'sorry' for journalist beating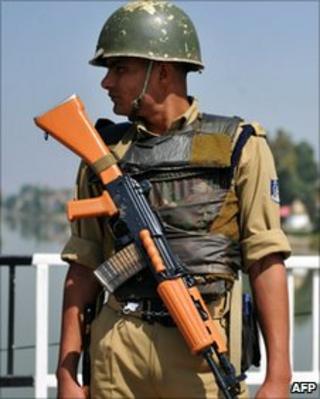 The chief minister of the Indian state of Jammu and Kashmir has apologised to a prominent video journalist who was severely beaten up by police.
Officials say that Omar Abdullah spoke to Merajuddin by telephone and repeated his apology three times.
Merajuddin, who works as a cameraman for APTN, was hit with a baton in the neck and fell unconscious. Police also beat his son and colleague, Omar.
There have been a number of such attacks on local journalists recently.
Earlier two of the state's most senior civil servants - Mr Abdullah's principal secretary and the state's principal home secretary - visited the injured cameraman's residence following his discharge from hospital.
Police have meanwhile told the BBC that a police officer and two constables face investigation for the assault and have been taken off their daily duties.
Police also took statements from Merajuddin - who remains confined to his bed - and Omar at their residence yesterday.
The two journalists say that they were heading to the state assembly in Srinagar when they were stopped by police, who refused to let them pass despite their having curfew passes.
When Merajuddin insisted on speaking to their officer, the policemen became angry and beat him.
The assault happened while Mr Abdullah was apologising in the assembly for the seizure of newspapers by the police in Srinagar on Friday morning.
He told members the police had seized the newspapers without his knowledge.
The media is under increasing pressure in the state.
One senior journalist, Sheikh Mushtaq, said: "We have never felt so insecure as now. We not only face a threat to our lives but are also humiliated off and on."