Principal of elite Indian school arrested over suicide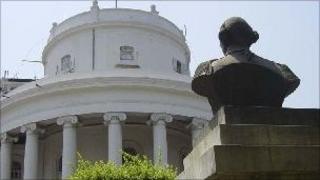 The principal of Calcutta's elite La Martiniere school has been arrested in connection with the suicide of a 13-year-old schoolboy.
Sunirmal Chakrabarty has been charged with "abetment to commit suicide" by Calcutta police.
He and three other teachers are accused of forcing the schoolboy, Rouvanjit Rawla, to commit suicide in June.
Mr Chakrabarty says he only used "mild caning" to punish the child.
He denies that his rebukes prompted the teenager to hang himself.
The school's website says that it has been in existence for 150 years and has "always maintained a standard of unimpeachable integrity".
It says that "each and every boy that passes through its doors faces the outside world with a sound character".
'Apology not enough'
Calcutta police chief Gautam Mohan Chakrabarty says that the principal and three teachers have been charged under the Penal Code and the Juvenile Justice Act.
"We had started the case after specific complaints were made against four teachers of the school," he said.
"They abetted the suicide of this boy and on conclusion of our investigation we are going to file a charge-sheet against them.
"We have examined a large number of people and have collected enough documents to back our charges," the police chief said.
Rouvanjit's father, Ajay Rawla, demanded strict action against the accused, saying an apology was not enough for the death of his son and the school must pay for the crime.
He had filed a first information report on the case to police in June.
"If they have broken the law of the land, which I think they have, I'm sure that they will have to pay the price for their crime," Mr Rawla told the BBC.
"I definitely think that he [the principal] should be sacked."
Mr Rawla dismissed the school's internal investigation into the suicide as "worthless" and said he was happy with the police action.
The National Commission for Protection of Child Rights (NCPCR) earlier found the principal and the three teachers guilty of "torture and humiliation" and said they were responsible for the boy's suicide.