Delhi Games: Tickets giveaway to fill empty arenas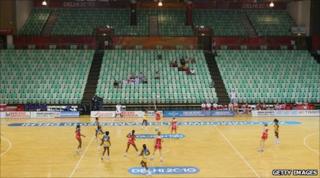 Organisers of the Commonwealth Games in India are handing out free tickets to fill empty arenas.
TV pictures beamed around the world have shown competitors in virtually empty venues in Delhi.
Organisers told a news conference in the capital they hoped to increase attendance through a ticket giveaway to children and the underprivileged.
The vacant venues problem is the latest to hit the Delhi Games, preparations for which were plagued by setbacks.
Correspondents say the lack of spectators may be because it is not easy to buy tickets, although heavy security at the stadiums has also been a deterrent.
'Prince Diana' gaffe
"We are working on the children from schools, already steps have been taken in that direction," said Delhi organising committee chairman Suresh Kalmadi, who was booed by the crowd at Sunday's opening ceremony.
"And also from the low level of society, we have been distributing a lot of tickets," he said, in the organisers' first news conference since the Games opened.
Mr Kalmadi said booths had been opened at every venue to make it easier to purchase tickets.
"There were problems, some of the ticket stalls were not put up, but all the stalls are up now at all the stadiums," he said.
Mr Kalmadi made an embarrassing slip-up when he said that "Prince Diana" had attended Sunday's opening ceremony, the Associated Press news agency reports.
He quickly corrected himself and identified Prince Charles and his wife, the Duchess of Cornwall, as the attendees.
Lady Diana died in a car crash in 1997. She was the ex-wife of Charles, who is heir to the UK's throne and who represented Queen Elizabeth II at the opening of the Games.
Commonwealth Federation Games president Mike Fennell told Tuesday's news conference that many venues had been nearly empty on the opening day of the event.
"We are working with the organising committee on that and they themselves are very conscious of the situation as to how those venues can be filled in the days to come," he said.
On Monday, there were report of problems with the weigh-in scales for the boxing competition.
Athletes and coaches were upset as the scales gave incorrect readings, forcing some boxers to make desperate attempts to shed weight.
An organising committee official said the problem had now been "rectified".
Preparations for the Games were overshadowed by complaints about sub-standard facilities, concerns over security, and non-attendance by leading competitors. There have also been claims of corruption and mismanagement.