Nato supply lorry in Pakistan hit by blast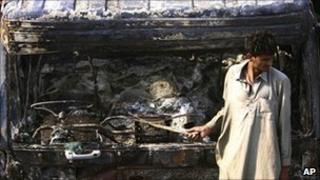 A bomb has damaged an oil tanker carrying fuel for Nato vehicles in Afghanistan in the latest such attack in north-west Pakistan.
There have been up to five ambushes on tankers in the past week since one of the main border routes into Afghanistan was shut by the Pakistani authorities.
The Torkham crossing was closed after three Pakistani soldiers were killed in a Nato helicopter strike in Pakistan.
Islamabad has not yet said when the border post will be reopened.
No-one died in Monday's bombing in the Khyber tribal region, which happened while the tanker was parked alongside more than 100 other trucks waiting to enter Afghanistan.
It is unclear who bombed the lorry, but the Pakistani Taliban have admitted similar attacks on Nato supply convoys, including one early on Monday that left at least three people dead and nearly 30 vehicles destroyed.
On Friday, at least 27 lorries carrying supplies for Nato troops were set on fire in the southern Sindh province.
Nato has been playing down the logistical impact of the attacks, but analysts say if such ambushes continue, they will begin to have an effect.
It says the trucks passing through Pakistan carry fuel, military vehicles, spare parts, clothing and other non-lethal supplies for foreign troops in Afghanistan.
The Nato-led International Security Assistance Force said on Monday that its operations were so far unaffected by the attacks but that it was "beginning to explore other options".
Supplies are currently brought into northern Afghanistan via Uzbekistan and Tajikistan but the spokesman declined to say which northern route was being considered.
The other main Nato crossing from Pakistan to Afghanistan - Chaman in Balochistan - remains open.