Profile: Ahmed Sidiqi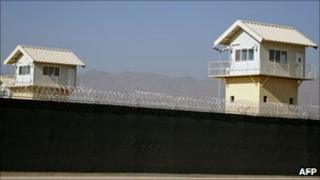 Ahmed Sidiqi, a German citizen of Afghan origin, is reportedly the source of the recent speculation within the intelligence community that al-Qaeda is planning "commando-style" attacks in Europe, similar to those in Mumbai in 2008.
The 36-year-old is said to have been a member of a cell of 11 jihadists, who left the city of Hamburg for Pakistan last year to attend militant training camps.
He was arrested in the Afghan capital, Kabul, at the beginning of July and is being held without charge at the nearby US military airbase at Bagram.
Mr Sidiqi's family have said they do not believe he is a militant, but German intelligence sources claim that he has given his interrogators a steady stream of detailed, if unverified, information about al-Qaeda.
Correspondents say such revelations may have led to the closure in August by the German authorities of a mosque in Hamburg which was used by the 11 September 2001 attackers and which was again believed to be a focus for extremists.
And on Sunday, a US drone strike in Pakistan killed eight suspected militants, four of whom were German nationals, according to officials.
'New life'
Mr Sidiqi went to Germany from his native Afghanistan in the early 1990s. He became a naturalised German citizen in 2001. He worked at Hamburg's airport, where he cleaned aircraft.
According to CNN, he told his family in early 2009 that he was travelling to Afghanistan to start a new life with his Indonesian wife, and that he was planning to meet some friends in Pakistan on the way.
That March, he and his wife flew to the Pakistani city of Peshawar, where they met up with 10 other men, including a German of Syrian descent, Rami Makanesi, and a German of Iranian descent, Shahab Dashti, intelligence sources said.
They all had connections to the Taiba mosque in Hamburg, a meeting place for Islamists in the city. Formally known as the al-Quds mosque, it was once used by Mohammed Atta and other members of the 9/11 cell.
Naamen Meziche, a French citizen of Algerian descent and a former friend of Atta, is alleged to have helped persuade the men to men leave for Pakistan. Mr Meziche is thought to be in Afghanistan or Pakistan.
Once in Peshawar, the group reportedly travelled to militant training camps in the tribal areas which border Afghanistan. One of them was run by the Islamic Movement of Uzbekistan (IMU), a group linked to al-Qaeda.
In late 2009, Mr Dashti appeared in an IMU video. Wielding a knife and a rifle, he urged Germans to join the jihad against US forces in Afghanistan.
'No. 3 leader'
According to the German news magazine Der Spiegel, Mr Sidiqi has told his US military and CIA interrogators that after receiving training in Pakistan, he fought in Afghanistan and met Said Bahaji, who is wanted for involvement in 9/11.
He then reportedly moved to Mir Ali, a border town in North Waziristan that is well-known as a transit point for insurgents. While there, he met Sheikh Younis al-Mauritani, who Mr Sidiqi said had become al-Qaeda's third most senior leader.
Mr Sidiqi said he had to go through elaborate security procedures before he was allowed to meet the sheikh, who then told him about plans for a series of attacks in several European countries, including the UK, Germany and France, according to Der Spiegel.
Discussions of the plans would be conducted through secret e-mail accounts and new, even "cleaner" computers, he was allegedly told.
Mr Sidiqi claimed that al-Qaeda leader Osama Bin Laden had approved the plot and also provided some funding, Der Spiegel reported. Mr Dashti was to be a "foot soldier", he added.
It is not known when Mr Sidiqi travelled to Kabul, but in July he was arrested by a group of plain-clothed US soldiers while on the way to the German embassy. His sister told CNN that he had telephoned the previous month to tell them that he missed them greatly and planned to come home soon.
Since Mr Sidiqi's arrest, the International Committee of the Red Cross (ICRC) has passed on to his family a letter in which he said he was OK and that he hoped to return home soon, according to his father.