Deadly blasts rock southern Afghan city of Kandahar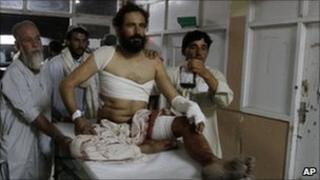 Up to five explosions have rocked the city of Kandahar in southern Afghanistan, killing at least nine people, officials say.
More than 20 people were injured in what was reportedly an attack on a police convoy.
Some reports say children were also among the casualties.
Afghan and Nato-led forces are currently conducting a major operation in the area to drive out Taliban militants.
The first explosion happened on a busy road in Kandahar's Panjwai district, officials say.
It was followed by at least four more blasts when police and a crowd of onlookers, including children, arrived at the scene.
Most of the victims were civilians, the officials say.
The authorities later issued an urgent appeal for residents to donate blood to help the injured.
Although no group has so far claimed responsibility for the blasts, officials have blamed the Taliban for a spate of recent attacks in the area.
On Monday, four Afghan policemen were killed in three explosions in Kandahar near a convoy of troops.
Separately, four Nato service members died in attacks around the country. Their nationalities have not been released.
The Afghan war is now in its bloodiest year since the 2001 US-led invasion that ousted the Taliban from power.