Karnataka's BJP government reduced to minority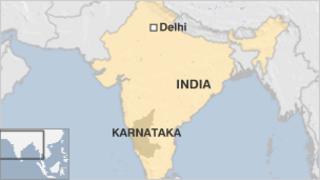 The Hindu nationalist Bharatiya Janata Party government in India's Karnataka state has been reduced to a minority after 20 lawmakers withdrew support.
Chief Minister BS Yeddyurappa has been asked by the state governor to show he can form a government with a working majority by 12 October.
If he is unable to do that, elections will follow.
Correspondents say the revolt has been provoked by a recent cabinet reshuffle and corruption claims.
Karnataka is the only southern Indian state where the BJP wields power.
Fifteen BJP lawmakers and five independents sent a letter on Wednesday to the state governor saying they would no longer back Mr Yeddyurappa's administration.
They included seven ministers, three of whom were BJP members. The other four were all independents, who have now been sacked by Mr Yeddyurappa.
"This government is corrupt. We need a new government that is efficient and stable," said Anand Asnotikar, one of the sacked ministers.
The BJP had 116 lawmakers in the 224-member assembly before the mutiny.
After talks with leaders of his party, Mr Yeddyurappa said: "I will prove my majority. The people of Karnataka need not worry."
Correspondents say the central BJP party leadership is worried about what impact the government rift could have on assembly elections in Bihar and local elections in Uttar Pradesh this month.
The BJP has been projecting Karnataka as the party's gateway to the south, where it has little influence.
The revolt comes days after allegations surfaced of a land scandal involving the chief minister and one of his senior colleagues.
Mr Yeddyurappa is accused of giving away government land in Bangalore to his family members.
The son of IT Minister Katta Subramanya has been arrested for allegedly trying to bribe a key witness in a land scam case.
Opposition parties have called on the state governor to sack Mr Naidu and Mr Yeddyurappa.