Student killer Santosh Singh is spared the gallows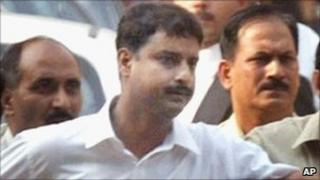 India's Supreme Court has commuted the death sentence of a man convicted for the rape and murder of a female student 14 years ago.
Santosh Singh - who was handed the death sentence by Delhi High Court in 2006 - will now serve a life sentence.
Priyadarshini Mattoo, 25, was killed at her flat in Delhi in January 1996.
A lower court acquitted Singh in 1999 for lack of evidence, despite the judge saying he was guilty, but public outcry led to his retrial and conviction.
Singh's father was a police inspector-general at the time and the judge said he may have interfered in the case.
Stalker
The case is one of many that has stoked public anger against India's justice system, which is often accused of sparing high-profile perpetrators.
"To our mind, certain things are in favour of appellant [Singh]. We are converting the punishment of death sentence into the life imprisonment," India's NDTV channel quoted the Supreme Court as saying.
Ms Mattoo's father CL Mattoo told the channel his family was "shattered and dismayed".
"We had expected better treatment from the courts," he added.
Ms Mattoo's body was found in her Delhi home in January 1996. She had been strangled and her body had 19 injuries.
Before her murder, she had complained to Delhi police that she was being stalked and harassed by Singh, a fellow student.
The original trial judge said he thought Singh was guilty, but was forced to give him the benefit of the doubt and clear him.
The judge was scathing in his criticism of the investigating authorities, saying they had manipulated evidence and ignored proper procedures.
Singh always maintained his innocence.
A public outcry followed Singh's acquittal, and the prosecution appealed against the verdict in the High Court in April 2000.
Campaigners formed a group called Justice for Priyadarshini, holding candlelit vigils and starting e-mail campaigns demanding punishment for the murderer.