Nepal chamber fails for the 10th time to elect a new PM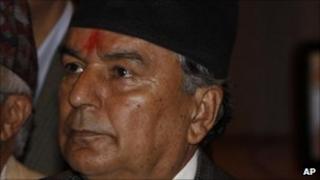 Parliament in Nepal has failed for a 10th time to form a government.
The country now rivals Iraq and Belgium for its inability to form an administration and so far there is no sign of a breakthrough in the impasse.
Nepal has been without a leader since former Prime Minister Madhav Kumar Nepal stepped down on 30 June.
Iraq's political vacuum has lasted since elections in March, while Belgium has failed to form a coalition government since elections in June.
'Farce'
In the most recent attempt to elect a new Nepalese prime minister, only one candidate stood for election - from the centrist Nepali Congress Party.
But Ram Chandra Poudel was unable to secure enough votes to win a majority because Nepal's two other major parties boycotted the vote.
Many Nepalese politicians now describe the process as a farce.
Returning from a trip abroad on Tuesday, Maoist leader Pushpa Kamal Dahal said that Nepal was sending negative signals to the outside world.
"We're making the world laugh at us by stretching an election that will never lead to a result," he told reporters.
There have been repeated calls by politicians for the parliamentary speaker to stop the elections and initiate a new process to form a government of national unity.
But as long as one party continues to field a candidate, the speaker has ruled that the votes will continue.
Nepal is in the process of writing a new constitution after 10 years of civil conflict between Maoist rebels and the army.
But the country has become mired in political infighting.
Deep divisions between political parties mean that nearly five years after a peace accord was signed, there has been little progress in forming a new democratic state.
One of the most contentious issues - what to do with some 20,000 former Maoist fighters - has still not been settled.
And while the politicians argue, state institutions and the rule of law are becoming weaker.
Madhav Kumar Nepal, who has continued on as a caretaker prime minister, has pledged to pass a much-delayed annual budget by the end of the month.
But the impasse has already had an effect.
"For me the most worrying thing is that development is at a standstill," says analyst Kunda Dixit.
"Hospital, schools and other many development projects are all running out of money."