Taliban contact with Afghan government 'intensifying'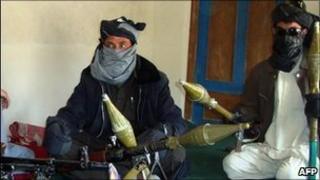 Contact between the Taliban and the government in Afghanistan is intensifying, a senior Afghan official has told the BBC.
Waheed Omar, a spokesman for President Hamid Karzai, said there was a willingness within some levels of the Taliban to find a way of seeking peace.
But he said the contact did not amount to negotiations to end the conflict.
The Taliban, which has always insisted foreign troops must leave the country, denied such talks were taking place.
Mr Omar said contact had intensified since a "peace jirga" in June, where Afghan tribal leaders endorsed Mr Karzai's plans to offer an amnesty and employment incentives to militants to persuade them to give up arms.
He said there had been "signs and signals" and attempts by the Taliban to contact the Afghan government, sometimes through intermediaries.
But he said there were no "comprehensive negotiations, nobody sitting at a negotiating table to discuss anything".
The government was also "not in a position to say who is representing who, or how much authority these people are carrying", he said.
Mr Omar said he believed the Taliban were feeling pressure from within Afghanistan to seek peace and that he was hopeful peace could be achieved.
His comments came in response to a report in The Washington Post on Wednesday.
It suggested for the first time secret, high level talks had begun between Kabul and representatives of the Taliban authorised to speak on behalf of the so-called Quetta Shura - the Taliban leadership council believed to be based in Pakistan.
The report quoted a source close to the talks as saying that despite their resilience in the conflict, the Taliban leadership believe "they are not in a winning position".
The Taliban were "very, very serious about finding a way out", said the unnamed source.
A spokesman for the Taliban denied that any such talks were taking place.
The organisation has previously said it will not enter into any negotiations with the Afghan government unless all foreign troops are withdrawn from the country.