US accuses Pakistan of avoiding militant conflict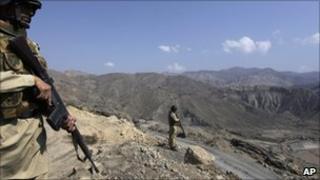 The United States has criticised Pakistan for avoiding direct conflict with militants in the tribal areas along the border with Afghanistan.
A White House report said this was as much a political choice as one based on resources.
The report follows a row between the US and Pakistan about a recent US incursion into Pakistani territory in which border guards were killed.
Pakistan says it works together with the US in the "war against terror."
The BBC's Jill McGivering says that it is clear that the crucial alliance between Pakistan and the US is increasingly strained.
Frustration
The statement comes after a cross-border helicopter attack which led Pakistan to close one of the main border crossings used to supply Nato troops in Afghanistan.
"The Pakistani military continued to avoid military engagements that would put it in direct conflict with Afghan Taliban or al-Qaeda forces in North Waziristan," the report said.
"This is as much a political choice as it is a reflection of an under-resourced military prioritising its targets."
The US has long expressed frustration about Pakistan's reluctance to take on militants in the tribal areas.
Pakistani foreign ministry spokesman Abdul Basit expressed hope that two countries could work together to eradicate the threat posed by militants.
Our correspondent says that every Pakistani military offensive so far - including Swat and South Waziristan - has involved protracted negotiations and sustained pressure from the US.
The US believes that in order to weaken the Taliban in Afghanistan, places of refuge inside Pakistan must be eliminated.
But to many in Pakistan, any involvement in military assaults in the tribal areas risks upsetting a complex and delicate balance of loyalties - and alienating powerful clans who are also possible future allies.
The government, already deeply unpopular, also has to contend with rampant public hostility towards US policy in the region.
Many see the US as high-handed, pushing Pakistan into conflict without regard for its suffering.
Pakistan feels it is paying an impossibly high price, our correspondent says, because it is rarely acknowledged that civilians are dying in their thousands and also not realised that more soldiers are being killed in Pakistan than Nato troops in Afghanistan.