Afghan Peace Council begins bid for talks with Taliban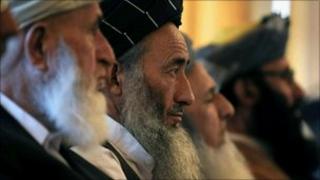 The Afghan president has opened the first session of the High Peace Council, the body recently set up to start a dialogue with the Taliban.
Hamid Karzai described the council as the greatest hope for the Afghan people and called on the Taliban to seize the opportunity and help bring peace.
It comes amid growing reports of secret peace talks with the insurgents.
Correspondents say this is Mr Karzai's most significant attempt yet to make peace with the Taliban.
But some of the 70 members of the council are former warlords who spent years fighting the Taliban and their inclusion has led to doubts as to whether it can succeed in its mission.
President Karzai announced the creation of the council in June at a Kabul peace conference. It includes two women.
"I wish you, respected members, success, and I wish our hopes come true - the hope for peace and stability in the country," Mr Karzai told the opening session at the heavily fortified presidential palace.
"To the opposition, be they the Taliban or anyone who wants to serve his country, we call on them to take the opportunity and respond to this effort and help bring peace to this country," he said.
While the Peace Council will work in public, there is growing evidence that behind the scenes there are renewed moves to establish contact between the Afghan government and the Taliban, the BBC's Nicholas Witchell reports from Kabul.
The government, and the Americans, believe the Taliban may finally be feeling the pressure from its military operations.
They are hoping the Taliban leadership - or at least some elements of it - will conclude that this is an appropriate moment to enter into negotiations, our correspondent adds.
Although President Karzai made no reference to the date, it was nine years ago on Thursday that the US began its military offensive against the Taliban in Afghanistan.
But far from being beaten, the Taliban have been putting up a tough fight and in recent years, have regained in strength and influence.
Their fighters continue to inflict casualties on the US-led Nato forces and resist all attempts to defeat them by military means.
And some, including Mr Karzai, believe that talks with the Taliban are the only way to end the insurgency.
But critics say many of the council members are unlikely peacemakers.
Also, previous attempts to negotiate with the Taliban have failed, partly over their insistence that foreign troops leave the country first.
There are nearly 150,000 foreign troops currently deployed in Afghanistan.