Afghanistan suicide blast kills German soldier in north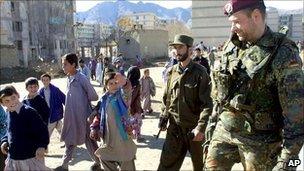 A German soldier was killed and six others injured, two of them seriously, in a suicide bomb attack in northern Afghanistan, German authorities said.
Afghan authorities said the attack occurred near Pol-e Khomri, the capital of Baghlan province.
Correspondents say attacks such as these - while still infrequent in relatively peaceful north Afghanistan - have grown more common in recent years.
Meanwhile, Nato says an unmanned drone has crashed in the east.
It said initial reports indicated that the crash in Paktika province was due to mechanical failure. "The vehicle... contains no weapons or intelligence that could be exploited by enemy forces," a statement said.
Thursday's attack in Baghlan took place in the early afternoon in the village of Shahbudin near the capital.
A senior Afghan intelligence official told the BBC there were also civilian casualties.
Germany says the latest death takes to 44 the number of its soldiers killed in Afghanistan since it sent troops to assist the Nato-led mission.
The relatively peaceful north has been the base for the German contingent, the third largest foreign troop deployment after the United States and Britain.
Related Internet Links
The BBC is not responsible for the content of external sites.