India cab driver jailed for life for call centre murder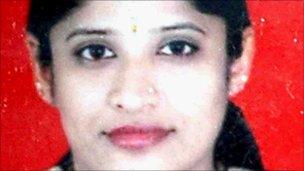 A taxi driver found guilty of raping and murdering a call centre worker in the southern Indian city of Bangalore has been sentenced to life in jail.
Shiv Kumar was convicted for the 2005 crime on Wednesday.
Pratibha Srikanthamurthy was on her way home after a night shift when she was killed.
Her mother, who had earlier called for the death sentence for Kumar, said his punishment should serve as a lesson for others.
There has been huge interest in the case in India where some 700,000 people are employed in call centres across the country, about 40% of them women.
Ms Srikanthamurthy, 24, worked in a call centre for Hewlett-Packard.
Following the killing, call centres announced a range of heightened security measures for their employees.
Bangalore is the hub of the information technology industry in India and has hundreds of call centres. It is often described as the country's Silicon Valley.