India students suspended for rude Facebook messages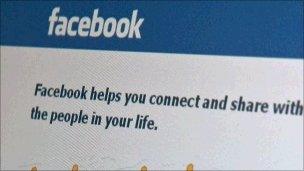 A leading school in India has suspended 16 students for posting rude remarks about a woman teacher on the popular social networking site, Facebook.
The comments were started by a student of Chandigarh's prestigious Vivek High School who was angry with his math teacher for giving him low grades.
Fifteen other classmates were suspended for allegedly egging him on.
Facebook has nearly 12 million Indian subscribers and the site is hugely popular with young urban Indians.
High school student Asaf Pervez initiated the online "thread" by posting images of his test scores alongside "rude and abusive" remarks, the school management said.
The "abusive" thread soon became a regular forum for the school's senior students to indulge in teacher-bashing, an official said.
The comments were discovered by chance a week later by a faculty member.
Shocked at what she saw, the teacher reported the matter to the school management, which responded by suspending the students.
"We cannot tolerate indiscipline, particularly disrespect towards any teacher," school director HS Mamik, who ordered a three-month suspension after individually meeting parents of each of the 16 teenagers, said.
"The comments posted are not just negative but obscene, rude and abusive."
The suspended students said the management's action infringed their privacy and right to free expression.
"The school has no business to peep into our personal and online lives," one girl student told a reporter.
Most parents agree that children must respect their teachers.
But they say the three month suspension is excessive, specially during the final year of school.
The school management has now agreed to review the penalty at a meeting on 18 October.
Many educationists and school principals in Chandigarh say internet allows easy access to obscenity which, they say, is increasingly finding expression in the lives of school children.
They have called for mandatory and stricter parental controls over children's browsing habits.
Related Internet Links
The BBC is not responsible for the content of external sites.