Four Italian Nato troops killed in western Afghanistan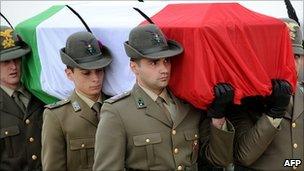 Four Italian Nato soldiers have been killed in an insurgent attack in western Afghanistan, officials say.
The Italian army said that the men were killed and another wounded in an ambush in the Gulistan Valley in the western province of Farah as they were returning from a mission.
Italy has about 3,400 soldiers in Afghanistan, with the deployment set to grow to 4,000 by the end of the year.
Prime Minister Silvio Berlusconi said he had heard the news with sorrow.
"We are grateful to all Italian soldiers who, in various missions around the world, allow our country to keep its international commitments in support of peace and against any form of terrorism," he said in a statement.
Italy's sports authorities called for a minute's silence as a sign of respect at all weekend sports events, including top flight football matches
The deaths brought the number of Italian soldiers killed in Afghanistan in the last six years to 34, of whom 21 have lost their lives in the past two years.
The soldiers who died on Saturday were members of the Alpini elite mountain troops, traditionally recruited among the highland areas of central and northern Italy.
So far this month 24 Nato soldiers have been killed in Afghanistan.
More than 2,000 Nato service members have been killed there since the start of the war. in 2001.
Related Internet Links
The BBC is not responsible for the content of external sites.