Sri Lanka brews world's largest cup of tea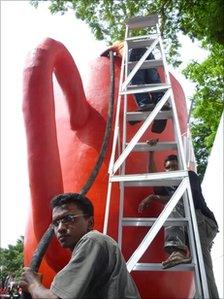 One of the world's leading tea-producing nations, Sri Lanka, has just become the scene for a new world record - the largest cup of tea.
A giant red mug was filled with 1,000 gallons (4,546l) of water, 141lb (64kg) of tea, 1,929lb (875kg) of malted milk powder and 353lb (160kg) of sugar.
It was almost 33% bigger than the previous record, set last year.
The tea was later driven around the Sri Lankan capital, Colombo, and handed out to locals in small plastic cups.
The tea came from Sri Lanka's famed estates, and was brewed for hours in 44-gallon (200l) urns in a way that is popular in South Asia - with sugar and malted milk power, says the BBC's Charles Haviland in Colombo.
The mixture was then slowly pumped into the mug - which had a capacity of about 32,000 normal cups - until it was full, he adds.
A representative from Guinness World Records certified the feat.
Related Internet Links
The BBC is not responsible for the content of external sites.