Afghan President Karzai confirms Taliban 'contacts'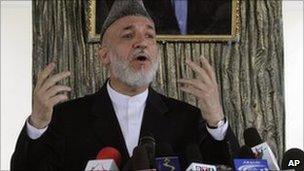 Afghan President Hamid Karzai has confirmed that "unofficial contacts" with the Taliban have been taking place to end the insurgency.
In a CNN interview, he said such contacts "have been going on for quite some time".
The admission comes shortly after Mr Karzai set up the High Peace Council - the body to start a dialogue with the Taliban.
His comments follow growing reports of secret peace talks with the militants.
"We have been talking to the Taliban as countryman to countryman, talk in that manner," Mr Karzai tells CNN's Larry King Live in an interview broadcast in full on Monday.
"Not as a regular official contact with the Taliban with a fixed address, but rather unofficial personal contacts have been going on for quite some time."
However, he stressed that Kabul would fight groups like al-Qaeda, accusing them of "working against Afghanistan".
Mr Karzai also denied a report that he suffered from manic depression.
"Oh definitely not. Rather funny," Mr Karzai told the show when asked about the allegations in a book by the renowned US journalist Bob Woodward.
The Afghan leader said that apart from vitamin tablets the only forms of medication he had taken were some antibiotics when he had a "bad cold two years ago".
Excerpts from the CNN interview were released on Sunday.
Kabul's previous attempts to negotiate with the Taliban have failed, partly over their insistence that foreign troops leave the country first.
Taliban fighters continue to inflict casualties on the US-led Nato forces and resist all attempts to defeat them by military means.
There are nearly 150,000 foreign troops currently deployed in Afghanistan.
Related Internet Links
The BBC is not responsible for the content of external sites.