Saudi Arabia urged to suspend Sri Lankan recruitment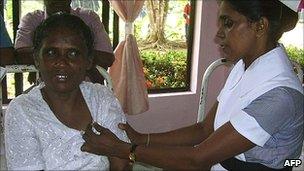 One of the main recruitment organisations in Saudi Arabia has called for a suspension in the hiring of thousands of workers from Sri Lanka.
The Saudi Arabian National Recruitment Committee urged officials to implement the freeze as soon as possible.
The Saudi authorities say that the main reason for the proposal is a row over recruitment charges.
But officials in Sri Lanka say the move is linked to torture claims by a Sri Lankan housemaid.
Saudi officials denied earlier reports that the ban had already been implemented.
They say the final decision now rests with the Saudi government.
A spokesman for the Saudi government told the BBC that the main reasons for the proposed suspension on hiring from Sri Lanka were high recruitment charges - $2,000 per worker - and the Colombo authorities' failure to train maids adequately.
They say the ban will not affect more than 500,000 workers from Sri Lanka already in the country, most of whom are women.
Saudi officials denied that the proposed suspension is linked to abuse claims by former housemaid LP Ariyawathie, 49.
Sri Lankan medics who treated her on her return from Saudi Arabia in August say nails and five had been forced into her hands and legs.
She told medical staff in Colombo that her employer had inflicted the injuries as a punishment.
Ms Ariyawathie travelled to Saudi Arabia in March to become a housemaid.
In the first half of this year nearly 20,000 Sri Lankans went there to work.
Related Internet Links
The BBC is not responsible for the content of external sites.