One dead in Taliban attack on Afghan Nato helicopter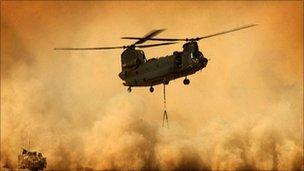 At least one person was killed and eight wounded when a rocket-propelled-grenade was fired at a Nato helicopter in Afghanistan, Nato officials say.
They say that the Chinook helicopter had just landed in the eastern province of Kunar and was off-loading when it was hit through its cargo bay.
The attack by the Taliban killed an Afghan interpreter and wounded seven Nato soldiers and an Afghan policeman.
Correspondents say that an attack such as this is rare in Afghanistan.
It is certain to raise questions about security at the Kunar base.
A Nato statement said the landing site had now been secured by troops.
There were about 26 people on board at the time of the attack.
The US-led International Security Assistance Force (Isaf) took several hours before confirming that the attack had been carried out by the Taliban.
The militants claimed responsibility for the attack earlier on Tuesday.
An AFP correspondent in Kunar said that he saw three helicopters flying over the Ghash area of Marawar district before an outbreak of rocket fire resulted in two helicopters flying off and a gun battle breaking out.
The helicopter had just landed at a military outpost and was off-loading through the rear ramp when the grenade was fired, Isaf said.
The Taliban have in the past shot down helicopters of foreign forces in Afghanistan.
In October 2009, two helicopter crashes killed 11 US soldiers and three US civilians.
Eastern Afghanistan is one of the most dangerous parts of the country, where Taliban and other Islamist insurgents have a strong presence.
It is just across the border from Pakistan, where militant groups are also strong on the ground.
There are currently about 152,000 foreign troops under US and Nato command in Afghanistan, fighting to reverse a nine-year Taliban insurgency.
Two-thirds of the troops are Americans.
Related Internet Links
The BBC is not responsible for the content of external sites.