Three people in India suspected of fasting until death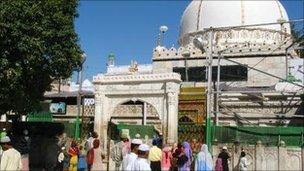 The authorities in the Indian state of Rajasthan are investigating the deaths of three Muslims suspected of starving themselves to death by fasting.
The trio - all from the same family - had been observing their fast at the shrine of a mystic saint in the city of Ajmer for the past month.
The three dead people were a woman aged 22, a youth aged 17 and a boy aged 12.
Ten others taking part in the fast are in hospital but say treatment would contravene their religious beliefs.
"The police have taken them to a local hospital in a critical condition," Ajmer superintendent of police Haiprasad Sharma said.
"But they are opposed to any treatment, saying it will defeat the purpose of their prayers."
Police say that doctors have carried out a post mortem on the three bodies and found the cause of death to be starvation.
They say that the family had been camping in Ajmer for 30 months and had been staying in a guest house from where they made regular visits to the shrine.
Officials at the shrine say that more than 5,000 devotees visit the shrine every day and it is difficult for everyone to be constantly monitored.
The head of the family whose members died told police that he undertook the fast because he was ordered to do so in a dream.
''While the [surviving] family members are not prepared to co-operate with the doctors, we have insisted they receive treatment and for now they are out of danger," a senior police officer said.
Related Internet Links
The BBC is not responsible for the content of external sites.