Rescue workers reach Afghan plane crash site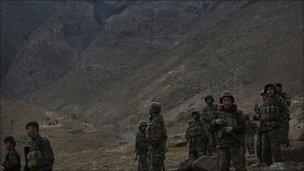 Rescue workers have arrived at the site near the Afghan capital Kabul where a civilian cargo plane with at least eight crew on board crashed on Tuesday.
The aircraft was carrying supplies to Nato forces and had taken off from the US base at Bagram. It went down in mountains to the east of Kabul.
A Kabul airport official told the Associated Press that all the passengers were feared dead.
But a Nato spokesman said they were "still hoping to find survivors".
The cause was not immediately known. Weather conditions in the area were clear.
Nato's International Security Assistance Force (Isaf) said the crash happened just before 2000 (1530 GMT) on Tuesday.
It was the second civilian air crash in Afghanistan in five months.
In May, a commercial passenger jet operated by the private airline Pamir Airways crashed with 44 people on board in the Shakar Darah mountains near Kabul.