Nato holds Brussels Afghanistan handover meeting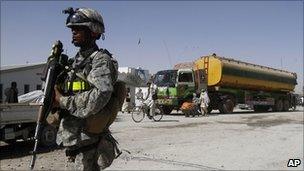 US and Nato commander Gen David Petraeus is briefing ambassadors in Brussels on handing over responsibility for security to Afghan forces.
It is hoped that the handover will take place in the first half of next year.
Nato commanders insist that progress - although slow - has been made, even though they had hoped to start the transition before the end of 2010.
Gen Petraeus is expected to say that while some troops could begin to withdraw, others would be reassigned.
They will be given new, supporting missions to help Afghan forces.
The BBC's Nick Childs says that while Nato may meet President Obama's target of beginning to withdraw US forces by July 2011, the numbers may be small at first.
Officials say it all depends on conditions on the ground.
Nato leaders are due to endorse the withdrawal roadmap at a summit in November.
But our correspondent says that commanders are expected to continue emphasising that unless they get more specialist trainers for the mission, the timetable could be delayed further.
Related Internet Links
The BBC is not responsible for the content of external sites.