Indian separatist leader 'arrested in Bangladesh'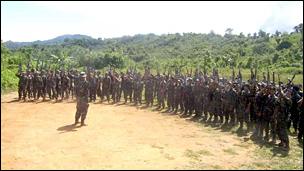 A prominent separatist leader from the north-east Indian state of Manipur has been arrested in Bangladesh and handed over, senior Indian officials say.
Rajkumar Meghen, who leads the United National Liberation Front (UNLF), was held by Bangladeshi police earlier this month, the officials said.
Mr Meghen, whose alias is Sanayaima, was flown out of Bangladesh recently in an Indian aircraft, the officials said.
The UNLF is the oldest separatist group in India's north-east.
Formed in 1964 to fight for Manipur's liberation from India, the group is estimated to have 5,000 armed fighters. It is the only group which has managed to retain territory in some areas of Manipur's borders with Burma, despite repeated military offensives by the Indian army.
Bangladesh has handed over more than 50 top leaders and activists of Indian separatist groups since a crackdown began in 2009. Many more have fled Bangladesh to evade capture or been caught on the border by Indian guards.
Indian officials said Mr Meghen had moved to the Bangladeshi capital, Dhaka, from his hideout in Burma's Sagaing Division to line up an arms deal.
His movements were tracked by monitoring his communication with the arms dealers, they said.
Analysts say India may be trying to influence the UNLF leader to start negotiations.
But he has steadfastly refused to talk with India.
Mr Meghen told the BBC six years ago that India must hold a plebiscite in Manipur under the aegis of the UN to ascertain whether Manipuris wanted to stay in India or not.
He was reportedly arrested in Burma in 2000 but released, prompting Indian protests. The Burmese authorities remained silent