Bangladesh anger over 'slow' bus crash rescue operation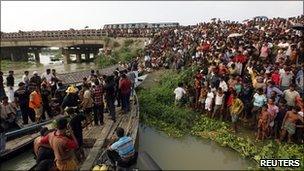 People in Bangladesh have reacted angrily over the delay in efforts to salvage a passenger bus which fell into a river near Dhaka three days ago.
Hundreds of people are still waiting on the banks of the River Turag, just outside the capital Dhaka, to learn the fate of their relatives.
Rescue teams have recovered the bodies of 13 people killed in the accident.
Activists say there has been a complete lack of co-ordination between the rescue teams in the search operations.
Three days after the accident, there is still little information about those lost.
Survivors say around 40 passengers were on board but only a few managed to escape. Most of them are feared killed.
It took more than 24 hours for search teams from the army, navy and the fire brigade to locate the bus.
Commentators are critical of the way the search was carried out. But officials said the strong current was delaying their efforts and that the bus was stuck inside a deep gully of about 7m (23ft).
Bus accidents are common in Bangladesh where an estimated 12,000 people die in various traffic-related accidents every year.
Most are blamed on reckless driving, poor road conditions and old vehicles.