Nato says six troops killed in three Afghan attacks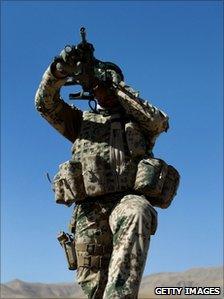 Nato says six of its soldiers have been killed in attacks in Afghanistan.
Four were killed in a bomb explosion in the south, a statement from the Nato-led International Security Assistance Force (Isaf) said.
Another service member was killed in a separate blast also in the south of the country, Isaf added.
Earlier, Nato said a soldier had been killed in an "insurgent attack" in the east of the country.
There were no further details on where the attacks took place or nationalities of those killed. Nato has lost at least 30 soldiers in Afghanistan this month.
US and Nato commander Gen David Petraeus is briefing ambassadors in Brussels today on handing over responsibility for security to Afghan forces.
It is hoped that the handover will take place in the first half of next year.
Nato commanders insist that progress - although slow - has been made, even though they had hoped to start the transition before the end of 2010.
Gen Petraeus is expected to say that while some troops could begin to withdraw, others would be reassigned.
They will be given new, supporting missions to help Afghan forces.
More than 2000 foreign troops have been killed in Afghanistan since the beginning of the conflict in 2001.
Related Internet Links
The BBC is not responsible for the content of external sites.