US drone strike in Pakistan 'kills eight militants'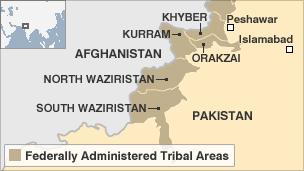 Eight militants, including four foreign nationals, have been killed in a US drone strike in Pakistan's North Waziristan region, officials say.
Three missiles were fired at a house in the Datta Khel area on Wednesday evening, killing five, including the foreigners, an official told the BBC.
The foreigners were said to be from Turkmenistan, and members of the Islamic Movement of Uzbekistan (IMU).
Minutes later, a car parked outside the house was hit, killing three others.
Local tribesmen told the BBC that Taliban militants took away the dead and injured.
Apart from the foreigners, the dead are said to be Taliban militants loyal to Hafiz Gul Bahadur - the group's main commander in the area.
Correspondents say Datta Khel, about 30km (19 miles) from North Waziristan main town of Miranshah, is a safe haven for al-Qaeda.