Massive rise in kidnappings in Pakistani province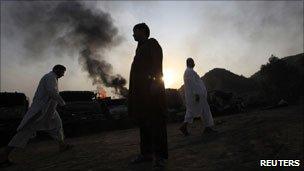 Kidnappings for ransom have surged in Pakistan's troubled Khyber Pakthoonkhwa province this year, police officials say.
At least 550 cases were reported in the first nine months of 2010, compared to 300 in the whole of 2009.
Those kidnapped include diplomats, politicians, lawyers, doctors and university professors.
Criminal gangs are thought to be behind most kidnappings, though Taliban militants may also be involved.
The militants are fighting security forces across the province.
"We have started an operation against the gangs involved in these crimes," Peshawar police chief Liaquat Ali Khan told the BBC.
"Different elements are involved in the incidents, not just the militants."
Most of the kidnappings have taken place in the vicinity of Peshawar and its adjoining areas.
Some of the more prominent people kidnapped recently include Peshawar university vice chancellor Ajmal Khan and a leading doctor, Intikhab Alam.
Dr Alam was kidnapped two weeks ago from Peshawar's city centre when he was returning from his clinic in the evening.
Doctors in Peshawar went on strike for a day after his kidnapping and held demonstrations against the authorities.
Dr Ajmal Khan, who is also a leader of Khyber Pakthoonkhwa's ruling ANP party, was kidnapped outside his home in the city suburbs.
High-profile kidnappings have been taking place across the province since 2008.
The Afghan consul-general in Peshawar, Abdul Haq Ferahi, was one of the first victims. He is still in captivity.
Another prominent victim was the Iranian consul-general.
Iranian news agencies reported that he was freed by the efforts of Iranian intelligence services.
Kidnapping for ransom has traditionally been big business in this part of Pakistan - and it has grown in the chaos created by the fighting between the militants and security forces.
It is a multi-million rupee business - said to have been adopted by the militants to supplement their funds.
Related Internet Links
The BBC is not responsible for the content of external sites.