Mumbai to host sporting memorabilia charity auction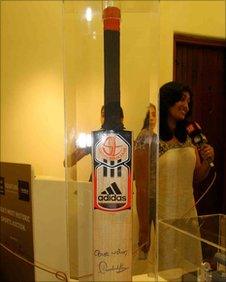 A major auction of sports memorabilia is to be held in the Indian city of Mumbai (Bombay) later this month.
The event on 29 October will feature items donated by stars including Sachin Tendulkar and Roger Federer.
The proceeds will go to a charity which funds schooling for children in remote parts of the country.
The auction has been organised by the charity's founder, Rahul Bose, a former national rugby player and a well-known Indian actor.
Items up for sale include:
A cricket bat used by Sachin Tendulkar
Tennis shoes signed by Roger Federer
Vishwanathan Anand's world chess championship gold medal
Abhinav Bindra's world championship rifle
"When I thought of raising funds... many suggested an art auction but I know nothing about art," said Mr Bose, a screenwriter and social activist.
Organisers say they were "pleasantly surprised" when a variety of sports celebrities readily agreed to contribute towards the auction with their memorabilia.
Sachin Tendulkar donated a bat used during from a one-day international innings in New Zealand.
"It was satisfying not least because I kept up a decent strike rate [with it] and India won the game!" he said in a statement.
More than 200 selected bidders will take part in the auction, which will be closed to the public.
However, two days of free viewing of the "museum pieces" has been planned prior to the sale, which may become an annual event.
Mr Bose's charity, The Foundation - which has already funded schooling for children from the Andaman and Nicobar Islands - says that it will select another remote part of the country for the new funds.
Related Internet Links
The BBC is not responsible for the content of external sites.