Hillary Clinton: Rich Pakistanis failing flood victims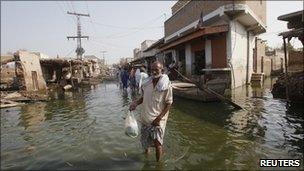 US Secretary of State Hillary Clinton has said wealthy Pakistanis must do far more to help their countrymen who were devastated by this summer's floods.
She said the Pakistani government had to expand its tax base so more could be collected to help reconstruction.
It was "absolutely unacceptable" for well-to-do Pakistanis to avoid paying their fair share, she said.
The flooding across a swathe of Pakistan left up to 2,000 people dead and affected up to 20 million.
Mrs Clinton was speaking after a meeting with EU foreign affairs chief Baroness Ashton in Brussels.
Mrs Clinton said: "It's absolutely unacceptable for those with means in Pakistan not to be doing their fair share to help their own people while taxpayers in Europe, the United States and other contributing countries are all chipping in."
The EU and US have contributed some $450m (£280m) each to the Pakistan flood aid effort and the EU has also offered a trade deal to lift certain duties.
Mrs Clinton went on: "The most important step Pakistan can take is to pass meaningful reforms to expand its tax base.
"The government must require that the economically affluent and elite support the government and people of Pakistan."
The BBC's Syed Shoaib Hasan in Islamabad says Pakistan's tax system has come in for a great deal of criticism in recent years.
Tax collection remains abysmal, he says, and Pakistan's elite routinely evade taxation by using political influence.
The worst offenders include landlords and industrialists, some of whom are part of the current government, our correspondent says.
Following the floods, hospitals, schools, bridges and thousands of kilometres of roads need to be rebuilt with a total reconstruction bill that could stretch into tens of billions of dollars.
The floods, caused by heavier than usual monsoon rains in July, inundated a fifth of the country, destroying or damaging almost two million homes.
Related Internet Links
The BBC is not responsible for the content of external sites.