Australia denies its athletes vandalised Games village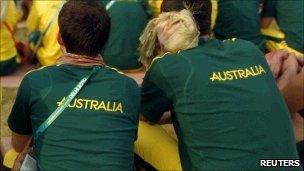 Australia has denied accusations that its athletes participating in the Delhi Commonwealth Games vandalised their tower in the athletes' village.
Indian media said the athletes were angry because their cricket team lost the Test series to India on Wednesday.
They destroyed furniture and electrical fittings and threw a washing machine from the eighth floor, reports said.
The Australian high commission admitted that a washing machine had been damaged during "spirited celebrations".
But, it denied that any Australian athlete had been involved in vandalism.
The Times of India newspaper quoted an unnamed police officer inside the Games village as saying: "The house-keeping staff tried to stop them [the Australian athletes] but to no avail.
"The Australians also shouted slogans against batting maestro Sachin Tendulkar, who played a pivotal role in ensuring India's victory."
In a statement e-mailed to the BBC, the Australian high commission said there had been "some spirited celebrations involving the Australian team and a number of other teams" at the athletes' village.
"We can confirm that in the course of those celebrations a washing machine was damaged, though it remains unclear who did the damage, what their nationality was, and whether it was deliberate or accidental."
The statement denied that the athletes were protesting against their team's loss in cricket.
"The suggestion that this was a reaction to Australia's loss in the second Test is completely baseless.
"The Australian team's celebration had nothing to do with the cricket, or India, or Sachin Tendulkar," it said.
Australia led the medals tally at the Games, winning 177 medals, including 74 golds.
Police say they have not received any complaint so far from the Games organising committee.
Related Internet Links
The BBC is not responsible for the content of external sites.