Tiger that killed eight Indians caught at last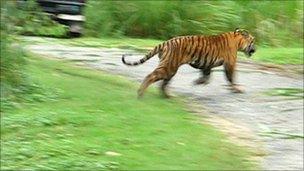 Officials in the northern Indian state of Uttar Pradesh say they have captured a tiger that had killed eight people.
The male tiger was tranquilised and taken to Lucknow Zoo on Thursday evening after a chase lasting several months. Vets are monitoring the animal's behaviour and health.
The tiger claimed his first human in May near the India-Nepal border.
Officials say he was not a typical "man-eater" as he had been killing wild animals as well as humans.
The tiger spread terror as he moved south through Pilibhit, Shahjehanpur, South Kheri, Hardoi and Farrukhabad forests killing eight people between May and late August.
A team from the forest department and Wildlife Trust of India (WTI) was involved in the tracking operation.
"We identified it as the one that we were tracking by comparing its stripe pattern to photographs taken in previous capture attempts and also by comparing its pug marks," said PP Singh, district forest officer of Shahjehanpur forest division.
Milind Pariwakam, a biologist at WTI, said: "It is extremely unfortunate that eight people lost their lives. Yet, the tiger was not exclusively attacking humans but was also predating on wild prey like blue bull, spotted deer, wild boar and black buck."
Authorities said the efforts of forest officials ensured there had been no human kills since late August, although the big cat had spent most of his time near human settlements.
The officials had other challenges, such as rains washing away evidence of the tiger, during the months-long operation.
On Thursday, a number of people were injured as a huge crowd gathered around the tiger's refuge in Nagla Singh village in Farrukhabad forest division and pelted it with stones.
Related Internet Links
The BBC is not responsible for the content of external sites.