Nato's 'safe passage' for Taliban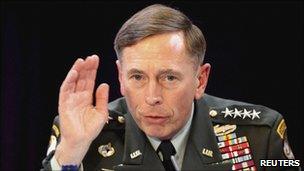 Nato has granted safe passage to Kabul for at least one Taliban commander to hold talks with the Afghan government, according to General David Petraeus.
The commander of international forces in Afghanistan said in London the move aimed to back President Hamid Karzai's efforts to reach out to the insurgents.
Despite the peace feelers, analysts say the bigger picture is of an intensifying insurgency in the country.
Afghanistan is facing its bloodiest year since the US-led invasion of 2001.
During his address to a defence think tank, Gen Petraeus said there were "several ongoing initiatives" to try to get the Taliban to the negotiating table.
"Indeed in certain respects we do facilitate that given that needless to say it would not be the easiest of tasks for a senior Taliban commander to enter Afghanistan and make his way to Kabul if Isaf [Nato's International Security Assistance Force in Afghanistan] were not willing and aware of it and therefore allows it to take place," Gen Petraeus said.
He told the Royal United Services Institute that several "very senior" Taliban leaders had made contact with the Afghan government and other countries engaged in Afghanistan for preliminary discussions.
Painting an upbeat picture, Gen Petraeus also said Kabul was now a secure place to live; education and literacy had surged; and businesses were thriving while people were returning to Afghanistan.
However, his remarks come as the death toll for international forces continues to mount: more than 40 Nato soldiers have been killed this month.
With an American military pullout due to start in July next year, more than 150,000 US and Nato forces are in the country trying to defeat the Taliban.
Meanwhile, a safety monitoring group said on Friday that aid organisations in Afghanistan should work with the Taliban as the insurgents will play a permanent role in the country's future.
Anso said foreign forces were being increasingly sidelined and the Taliban were "certain to play a permanent and increasingly political role" in Afghanistan's future.
"We recommend that NGOs [non-governmental organisations] start developing strategies for engaging with them rather than avoiding them," said Nic Lee, director of Anso.
The non-profit group provides information to aid groups on the safety of areas across Afghanistan.
On Thursday, the Taliban told the BBC that claims by President Karzai to have had secret talks with the insurgents were untrue.
The Afghan leader this month launched a 70-member High Peace Council to establish dialogue with the insurgents.
Correspondents say there is no doubt that the Taliban have held talks at various levels with the Afghan government over the last 18 months but the challenge will be to build on that.
Related Internet Links
The BBC is not responsible for the content of external sites.