US troops show concern over readiness of Afghan army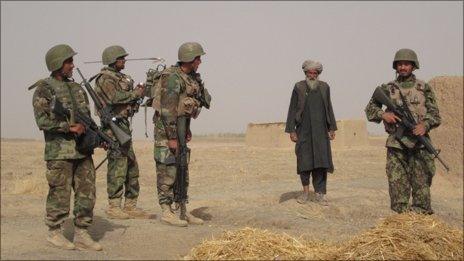 "If you see any of the Afghan army smoking dope," said the US sergeant major, "don't just bitch about it, pass it up the line."
There were nods from the platoon of American infantry taking shelter from the heat in the shade of a mud-walled compound. They had all seen Afghan troops smoking marijuana - and opium - on duty.
The exit strategy in Afghanistan is the same as it was in Iraq: equip, train and then handover to the local forces.
The handover is starting now in some places, to enable the American draw down of forces to begin next summer.
But American soldiers, speaking to us privately, told a story that contradicted the upbeat official assessments of the Afghan army.
Insubordination: in one incident, the Americans said Afghan soldiers pointed guns at an officer reprimanding them. We saw a fist fight between a sergeant and a soldier unwilling to wake up to go out on patrol.
Unreliability: one US soldier said the Afghan army drove off at speed during an ambush, leaving the Americans to fight on their own.
Poor discipline: US soldiers said operations were often delayed because the Afghan troops do not arrive on time.
Corruption: an Afghan farmer told us the army and police arrested people without evidence to demand bribes for their release.
Drugs: At the base we joined, two Afghan sergeants and two soldiers were removed for drugs offences. The US troops we spoke to said four arrests did not reflect the widespread use of drugs among the Afghans.
This is, of course, anecdotal evidence, based on talking to troops in one base.
But figures show that the Afghan army as a whole is suffering very high rates of desertion and soldiers going absent without leave.
In any given month, close to one fifth of soldiers in Afghan army combat units are absent without leave, according to Nato figures. For units involved in the worst fighting, that may be much higher.
The Afghan battalion at the base we joined should have been just under 800 strong. Some 200 men disappeared in Kabul rather than go south to fight. Around 150 went missing later.
Almost half the men supposed to be in the battalion were simply not there.
"They have to lock the doors on the buses after they tell the recruits they are being sent to the south," a senior Western official told me.
There are good soldiers among those who remain in uniform. Troops in one US infantry platoon were overjoyed at the accuracy with a rocket-propelled grenade of an Afghan attached to their unit. He had learned his skills as a former mujahideen fighter.
Sitting around a fire with his men, an Afghan sergeant told me: "I am very happy to serve my country. I want to fight for my country because it is weak. I want to help my people and my government."
But, precisely because they were good soldiers, his infantry squad had not been given leave in eight months.
Stuck in the middle of nowhere, they were unable to get money to their families for much of that time. That is why many others had deserted, they said.
The Afghan government's answer to this is to keep recruiting new soldiers - and to do that very fast.
It has to. In a typical month the army writes off at least 2,000 soldiers and officers, accepting that they have been absent without leave for so long that they are not coming back.
This means that new and inexperienced troops are being fed into the fight.
The American commander at the base we joined, Lt-Col Peter Benchoff, said he was training the Afghan battalion through operations. The bad soldiers were being weeded out and the good ones promoted.
Hearing the list of his own soldiers' complaints about the Afghan troops, he said: "Clearly all those things are signs that there is work to do."
He went on: "It is a sovereign country. It is their armed forces. They eventually will have to take over security for their country. Though with this battalion we do have a long way to go. But we are not going to hide from that challenge."
Gen Nick Carter, the British commander of multi-national forces in southern Afghanistan, told me he thought there were many examples of good Afghan National Army (ANA) battalions.
"We started the ANA as a project in 2002," he said, "now a lot of Afghans have respect for it."
Gen Carter explained the "population centric approach" to counter insurgency. The conflict, ultimately, is over the loyalties of the local people.
"It is not the clearing which is decisive but the holding," he said of the battle with the Taliban. "We are helping the Afghan government to win an argument."
A shura, or council, was held at the US base where we were embedded.
The area around the base had in recent memory been run by the Taliban. But an Afghan army colonel was leading the discussions at the shura: Afghan speaking to Afghan in a way that foreign troops could not.
This is the Afghan army's indispensable role - winning over the local people. Because which side those people eventually back will decide the outcome of this war.
Related Internet Links
The BBC is not responsible for the content of external sites.