Violence mars key election in Pakistani city of Karachi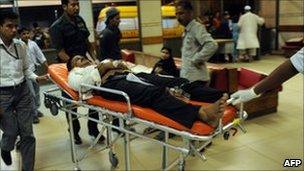 Voting has taken place in a tense by-election in Pakistan's city of Karachi, amid a fresh upsurge of violence.
At least 25 people have been killed, with cars and buses torched, despite a large security presence.
The by-election is for a Sindh provincial assembly seat that was held by local politician Raza Haider, who was murdered in August.
His death triggered riots that killed at least 100 in a city with a history of ethnic and sectarian tensions.
Raza Haider belonged to the Muttahida Qaumi Movement (MQM), which is part of the governing coalition in Sindh province.
It has the support of the ethnic Mohajir - Urdu speakers who came from India following partition in 1947.
The MQM's main rival, the ethnic Pashtun-based Awami National Party (ANP), is boycotting the poll, alleging fraud.
Clashes between armed activists broke out on Saturday despite tight security.
The BBC's Syed Shoaib Hasan in Karachi says that although the polling is now over, the violence continues, with gunfire heard intermittently across the city as armed political activists continue their battles.
TV channel ARY said at least four people had been killed on Sunday.
Most of the violence has taken place in the Orangi area, where the election was held.
Mr Haider was gunned down in a Karachi mosque on 2 August.
MQM leaders initially blamed the ANP, and many ethnic Pashtuns and their businesses were targeted in the ensuing violence.
However, the MQM backtracked after security officials arrested Sunni militants over the murder.
There have also been recent sectarian attacks in the city.
Earlier this month nine people were killed in suspected suicide blasts at a Karachi Sufi shrine.