Pakistan media gripped by man marrying twice in one day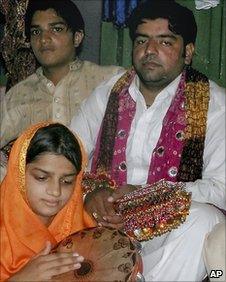 A Pakistani man's solution to the age-old dilemma of whether to embark on an arranged or a love marriage has captivated the country's media.
Television channels have provided live coverage of Azhar Haidri's decision to marry both women over a 24-hour period.
At first he refused to marry the woman selected by his family since childhood because he loved someone else.
Pakistani law allows polygamy because it interprets Islam to allow a man to have up to four wives.
Islam is the main religion in the country.
Men who take multiple wives usually do so after a period of several years - and must get approval from their first wife prior to a second marriage.
Correspondents say that while it is not unusual for men in Pakistan to have several wives, it is rare for two weddings to take place almost simultaneously under the full glare of the media.
Several Pakistani television stations have carried the nuptials live - on Sunday and Monday - because of the unique circumstances.
Mr Haidri's love for 21-year-old Rumana Aslam - ahead of 28-year-old Humaira Qasim - at one point threatened to split his family apart.
"I gave this offer that I will marry both of them," Mr Haidri, 23, told the Associated Press ahead of his first marriage to Ms Qasim on Sunday in the central Pakistani city of Multan. "Both the girls agreed."
He is scheduled to marry Ms Aslam on Monday.
Both women appear to have given their consent to the compromise and say they plan to live as sisters and friends.
"I am happy that we both love the same man," Ms Aslam told AP.
Mr Haidri, a herbal medicine practitioner, counts himself lucky.
"It is also very rare that two women are happily agreeing to marry one man," he said.