Afghanistan displaced still waiting to go home
By Dawood Azami
BBC World Service, Lashkar Gah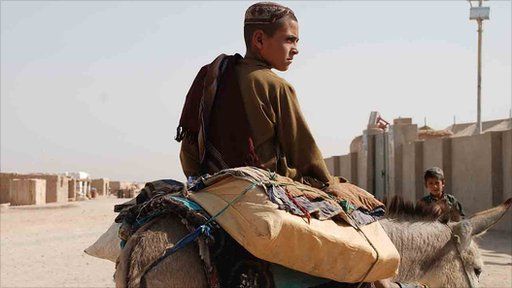 Seven months after a Nato and Afghan army operation ended in Helmand's Marjah district, about 15,000 refugees from the area are still hesitating to return.
They are fearful of roadside bombs, Taliban remnants not removed by the Nato operation, and continuing battles between insurgents and coalition troops.
Marjah's displaced families live in poorly-built mud houses in the Mukhtar camp for internally displaced people.
The camp - situated around 6km (3.7 miles) from Helmand's provincial capital Lashkar Gah - houses tens of thousands of families displaced by war.
'Insecurity and unemployment'
The displaced people arrived in the camp following a massive anti-Taliban operation by US, British and Afghan troops in Nad Ali and Marjah districts in February 2010.
Marjah was for years a Taliban haven, from where they planned attacks in other parts of Helmand province.
A number of families from Marjah have gone back after the operation ended but many of them are still waiting for the situation to improve.
''They have not returned for many reasons which include threats, insecurity and unemployment,'' says Niamatullah Ahmadi, provincial head of Afghanistan's Red Crescent Society.
Those who fled their homes say that initially they hoped to return "within a few days".
"But there is no hope of going back until one side or the other is in complete control," said 19-year-old Sayed Ahmad.
The Afghan government and the US military says it has already started fulfilling its pledge to establish the rule of law and restore long-vanished public services in the town.
Work continues on building offices and schools but winning people's confidence still seems to be a challenge.
A number of families have left the town and the surrounding villages in recent months.
''We left Marjah a couple of months ago because each side was blaming us for supporting the other,'' said 28-year-old Mirza Muhammad, who lives in Mukhtar camp.
''We can't even take aid or jobs from the government or Americans because the Taliban will target us. They don't allow us to work with the government.''
Afghan and foreign troops are now permanently based in the town of Marjah.
The Taliban also show their presence by regularly carrying out attacks.
''The Taliban once fired at security forces from a place near our house and the police came and arrested me saying I was a Talib,'' says Sayed Ahmad, 19, who now lives in Mukhtar camp.
''But luckily the elders got involved, told the police I was not a Talib. Now my father doesn't want me to go back.''
However, Helmand provincial governor Gulab Mangal paints a different picture.
''There is a 250-strong trained local police force which keeps the town secure. The town of Marjah is completely secure,'' he said.
Yet despite the influx of thousands of Afghan and foreign troops, Helmand remains one of the most dangerous - and the biggest opium-producing province - in Afghanistan.
''Terrorism is the biggest problem. People are being threatened in remote areas and developmental projects are destroyed,'' says Mr Mangal.
''There can be areas in all districts which are controlled by the Taliban. But we are trying to bring both physical and psychological security and this will take time.''
Nad Ali district - also the focus of Nato's Operation Moshtarak - seems to be doing better in terms of security than Marjah.
The condition of governance has improved there and members of private organisations in the district say they have witnessed noticeable progress.
''Security has improved a lot," says Nad Ali's district governor, Habibullah.
''The Taliban still control around 20% of Nad Ali district, mainly in rural areas, but we'll expand the area of our control soon.''
According to Afghan Red Crescent officials, Marjah had an estimated population of 70,000 before the February military operations.
''Around 50,000 of them left Marjah during the operation hoping that the situation would get better soon,'' says Niamatullah Ahmadi.
Many fled from Marjah with only a few possessions, leaving homes, farms and livestock behind in the hope the fighting would end quickly.
''I sold my sheep and chickens to find some money to pay for renting a car to get to Mukhtar camp from Marjah,'' said 60-year-old Shah Gula.
''There were attacks and the Taliban would come to fire from our roofs. I was worried about the life of my children.''
A six-year-old girl, Khatima, is also waiting in the camp for the time when it will be safe to go home.
''There was fighting and firing, I ran and hid in room. I was scared and crying,'' she said.
In addition to Afghan security forces, there are nearly 10,000 British troops in Helmand province and in recent months they have been joined by US soldiers, who will eventually replace them.
Officials accept that three of Helmand's 13 districts - Washir, Baghran and Deshu - are still fully controlled by the Taliban.
Many other districts are partly controlled by them. The overall picture seems to be that the government controls district centres while the Taliban rules over rural areas.
According to the provincial governor, plans are afoot to change this balance with an operation due to be launched in Washir district "in the near future".
But this is of little consolation to the displaced of Marjah.
Related Internet Links
The BBC is not responsible for the content of external sites.