'Six militants die' in Pakistan drone attack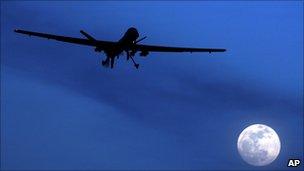 At least six suspected militants have been killed in a drone strike in north-west Pakistan, local officials say.
Local officials say two planes fired two missiles into a militant compound and four missiles at a vehicle in Datta khel in North Waziristan.
Five others were injured in the attack. Officials say most of the dead and injured in Monday night's attack were local militants.
But locals say some of them were foreign militants from Turkmenistan.
Those killed and injured were Taliban militants loyal to Hafiz Gul Bahadur - the group's main commander in the area, officials say.
They said that four militants were killed when a missile hit the vehicle, while two others died in the attack on the compound.
Local people say those killed in the vehicle were from Turkmenistan.
Correspondents say Datta Khel - about 30km (19 miles) from North Waziristan's main town of Miranshah - is a safe haven for al-Qaeda.
The US rarely admits it carries out drone attacks, but analysts say it is the only force with the capability to run such a programme.
It has now carried out more than 25 drone strikes in the area since early September.
Related Internet Links
The BBC is not responsible for the content of external sites.