Watchdog suspends 148 Pakistan MPs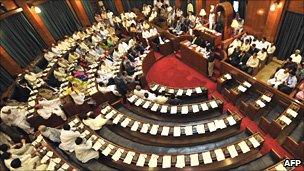 Nearly 150 Pakistani lawmakers, including four ministers, have been suspended by the election commission for failing to declare their assets.
The central and provincial MPs were excluded after missing a 30 September deadline to file their paperwork.
Of the 148 affected, 35 are members of the National Assembly, four are from the Senate, and the rest are in regional assemblies.
The lawmakers' parliamentary membership has been withdrawn until they comply.
Education Minister Sardar Asif Ahmed Ali, Minister for Labour and Manpower Syed Khurshid Shah, Deputy Information Minister Samsam Bukhari and Tourism Minister Maulana Ataur Rahman were the four cabinet members who did not declare their assets on time.
The tourism minister's brother, Mauana Fazlur Rahman, who is head of the Jamiat Ulema-e-Islam party, which is in the governing coalition, also features on the list.
Lawmakers from regional assemblies who did not submit their paperwork by the deadline include 71 from Punjab, 16 from Sindh, 12 from Balochistan and 10 from Khyber Pakhtunkhwa.
The suspensions come a month after an ongoing official investigation found that 58 lawmakers had fake degrees or qualifications from institutions not recognised by Pakistan's Higher Education Commission.
Related Internet Links
The BBC is not responsible for the content of external sites.