S Lanka rejects 'atrocity' photos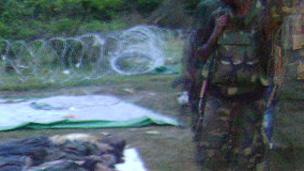 Sri Lanka's foreign minister has cast doubt on newly released photos that are said to show a massacre of Tamils during the country's civil war.
On an official UK visit, GL Peiris said images published by the Global Tamil Forum were a bid by rebel sympathisers to tarnish Sri Lanka's image.
Some of the pictures apparently show the bloodstained bodies of bound and blindfolded young people.
Sri Lanka's long civil war ended in May 2009 with the Tamil Tigers' defeat.
The Global Tamil Forum (GTF), a group which includes former supporters of the separatist insurgents, released the images as the Sri Lankan foreign minister visited London.
Many of the photos, whose veracity cannot be verified, are too graphic to publish here.
One apparently shows a semi-naked young woman lying, with blood on her face and apparently dead, surrounded by the bodies of trussed-up and blindfolded young men.
Other photos appear to show dead young men, two of whom lie in pits.
The GTF said the images had been passed to them by a Tamil Tiger intelligence official, who said he had got them from within the Sri Lankan army.
The GTF accepted in a statement that the authenticity of the photos could not be vouched for, but said they showed "blatant disregard to humanity".
Calling for an independent inquiry, Father SJ Emmanuel, president of the GTF, said: "If government of Sri Lanka has nothing to hide, why wouldn't they at least now admit to allowing the UN to investigate?"
'Patronising, condescending'
Echoing that call, Amnesty International urged British Foreign Secretary William Hague, who meets Mr Peiris on Wednesday, to demand an independent international investigation into alleged war crimes in Sri Lanka.
However, Mr Peiris said during an address to the International Institute for Strategic Studies, a think tank, that similar pictures of unproven veracity had been published before by Tamil Tiger sympathisers.
Hundreds of Pro-Tamil protesters gathered outside the building in central London as the Sri Lankan foreign minister gave his speech.
He also labelled as "patronising, condescending and almost colonial" human rights groups who criticised a government-appointed inquiry into claims of war crimes.
Amnesty International was last week among three organisations which accused the panel of a cover-up and refused its offer to give evidence.
But the commission, appointed by President Mahinda Rajapaksa, says it is a credible attempt at reconciliation.
It is not the first time that potential evidence of war crimes relating to Sri Lanka's civil war has emerged.
Video surfaced in August last year apparently showing extra-judicial killings by Sri Lankan troops.
The Sri Lankan government said the footage was fake, but a UN special rapporteur concluded it was genuine.
Related Internet Links
The BBC is not responsible for the content of external sites.