Mumbai attacker demands to give evidence in court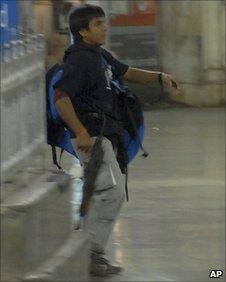 The sole surviving gunman of the 2008 attacks on the Indian city of Mumbai has demanded to be present in the court where his appeal is being heard.
Mohammad Ajmal Amir Qasab is contesting the death sentence passed against him in May via a video link from prison.
Correspondents say that he angrily spat on the camera supplying the link to the court as part of his protest.
More than 170 people died when Qasab and nine other militants attacked various targets.
Qasab was found guilty of mass murder and waging war against India.
Judges at the appeal said his most recent behaviour was unacceptable and that he must either argue his case through video conferencing or remain in his cell.
Qasab made numerous outbursts during his trial at the Arthur Road jail before he was sentenced to death.
There is tight security surrounding the court, which began hearing the appeal on Monday.
Qasab, a Pakistani national, gave evidence via video link because of the security concerns.
Qasab and nine other militants - who were all killed - attacked various targets.
The appeal hearing is expected to last about three months.
Related Internet Links
The BBC is not responsible for the content of external sites.